The Median Home Price Has Dropped
The median home price in Tallahassee has dropped in two of the three categories that we track.
While the move is faint, it is dramatic nevertheless when compared with the past few years of greater-than-normal growth that we have seen.
When all three types are bunched together, the median home price in Tallahassee has dropped ever so slightly thus far in 2019, but take a look at this week's special report to discover what's likely to happen to home prices as the rest of 2019 unravels.
Tide Has Shifted For Supply Of Homes
The Tallahassee real estate market is undergoing a cycle change, as we've seen a change in the direction of the relative supply of homes.
This week's one-page special report shows how each segment of Tallahassee is faring in a market with shifting supply and demand dynamics.
It's a quick read, take a look at the report by clicking the button below.
March Year Over Year Home Sales Decline
Year over year home sales fell 20% in March when compared to March in 2018.
March represents the third straight month of declines, something we've anticipated after seeing so many months of continual improvement over the past few years. But was there is something this graph does not show.
Take a look at this week's one-page special report for an up-to-date opinion on the health of the Tallahassee housing market.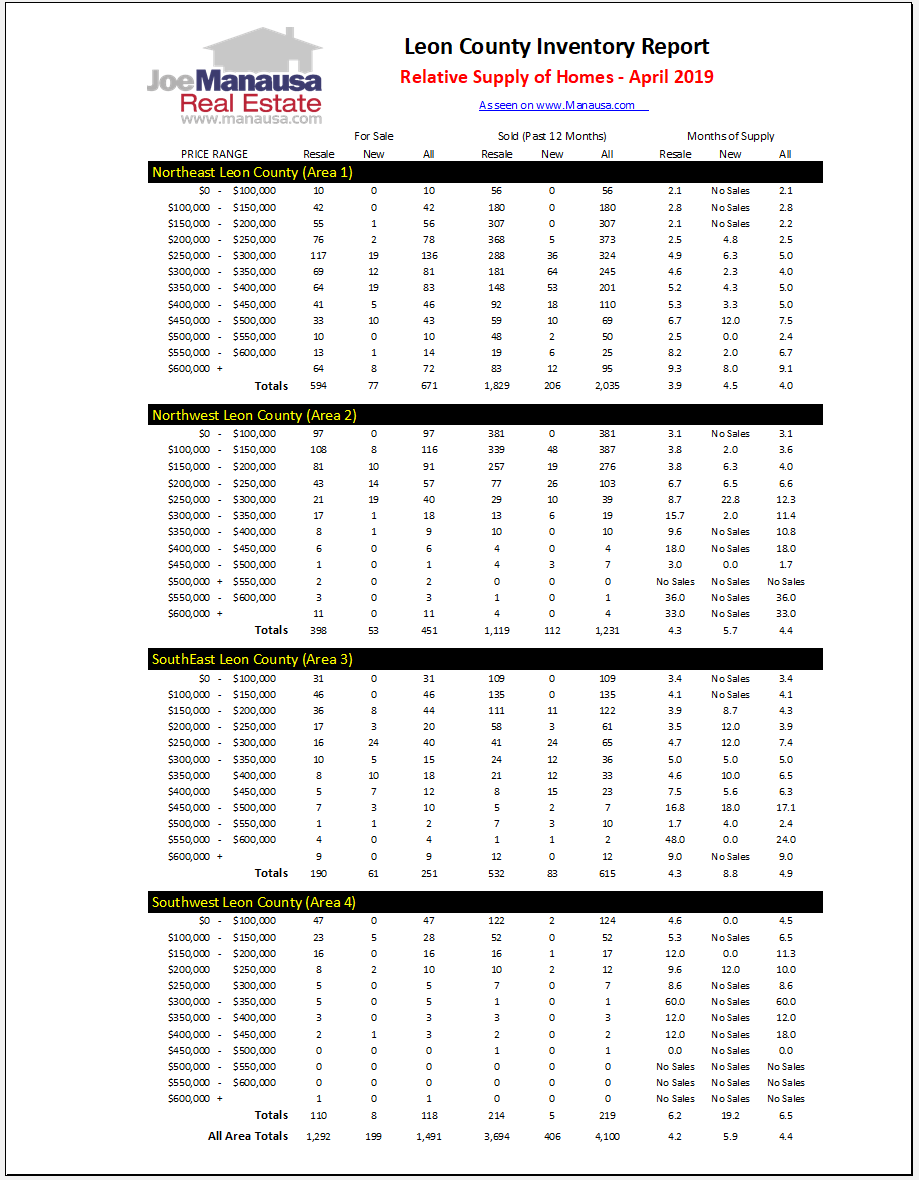 April 2019
Download the April 2019 supply and demand report for homes in Tallahassee, FL.
The four corners of the Tallahassee real estate market are segmented by price range and the current months' of supply of homes for each quadrant and each price range are shown.
You can use this information to recognize home values and to prepare yourself to successfully negotiate your next transaction when you buy a home or sell a home in Tallahassee.
Here's What Buyers Have Spent On Homes
If this was Jeopardy with Alex Trebek instead of the Tallahassee Real Estate Newsletter with Joe Manausa, you would ask "$400K or less?" to the answer in the title.
The graph in this week's one-page special report shows all condos, townhomes, and single family homes sold in Tallahassee in 2019, and six key price points are identified that clearly show what people are spending on today's homes.
e-Book

Other

Real Estate Supply And Demand

Tallahassee Life! e-Newsletter

Tallahassee Real Estate Newsletter

Weekly Special Real Estate Report